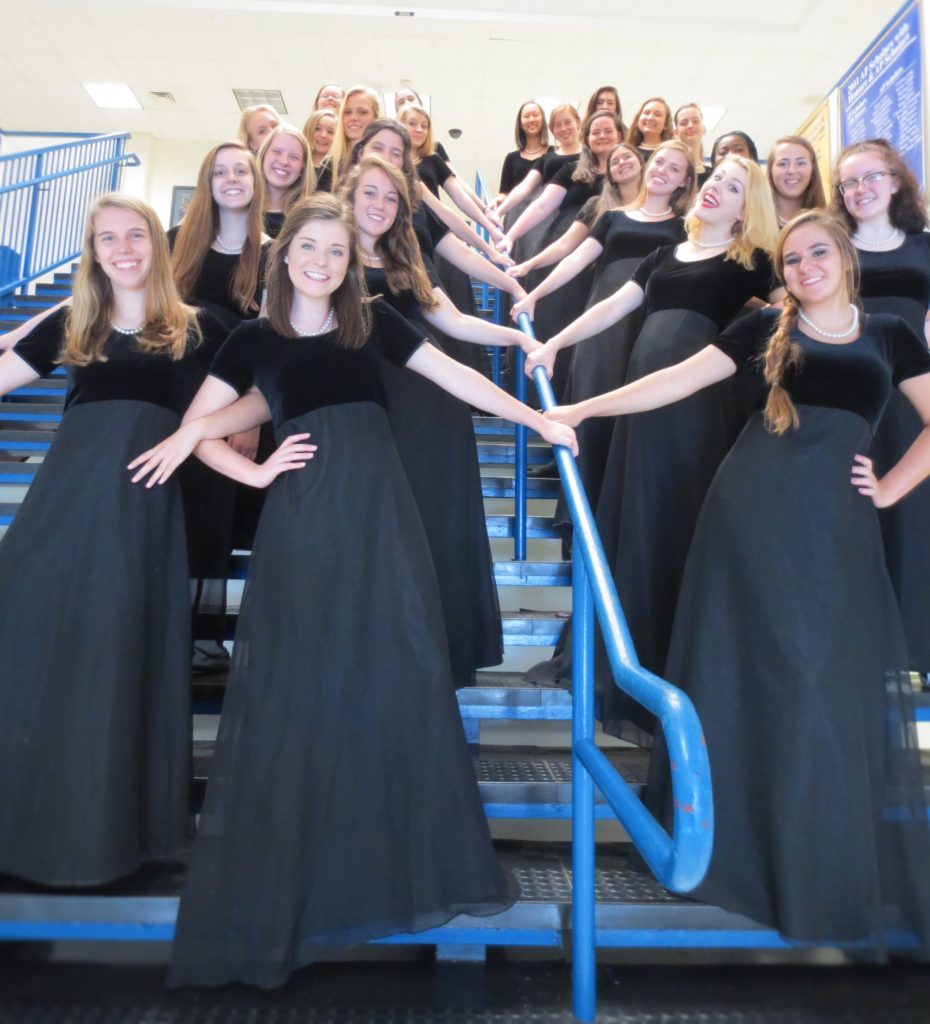 Elite Women's Choir
Formed in 2011, the Etowah High School Elite Women's Choir has transformed into the premier performing ensemble at the school.  It is comprised of students from tenth to twelfth grade who represent the best of Etowah musically, academically, and artistically.  The group performs a wide array of repertoire including authentic music from all over the world, advanced 21st century compositions, operatic choruses, and traditional choral music for women's choir.   They have had the privilege to perform with numerous touring college choirs, professional opera musicians, the rock band Foreigner, at Turner Field in Atlanta, and with guest conductors.  Most recently, the Elite Women were named Grand Champions of the 2016 Southern Invitational at Georgia Southern University.
William J. Hall currently serves as the Chorus Director at Etowah High School in Woodstock, Georgia.  Mr. Hall has dedicated over fifteen years to helping students achieve proper vocal production through kinesthetic learning and to the authentic experience of music from across the globe. He has lead ensembles for middle and high school choruses, college ensembles, church choirs, community and volunteer choirs, opera, musical theatre productions, high school orchestras and band. Mr. Hall holds a Bachelor's degree in Music Education from Georgia Southern University and a Master's degree in Choral Conducting from Louisiana State University. Recently, he has served as the guest clinician for honor choirs in GMEA Districts Five and Seven.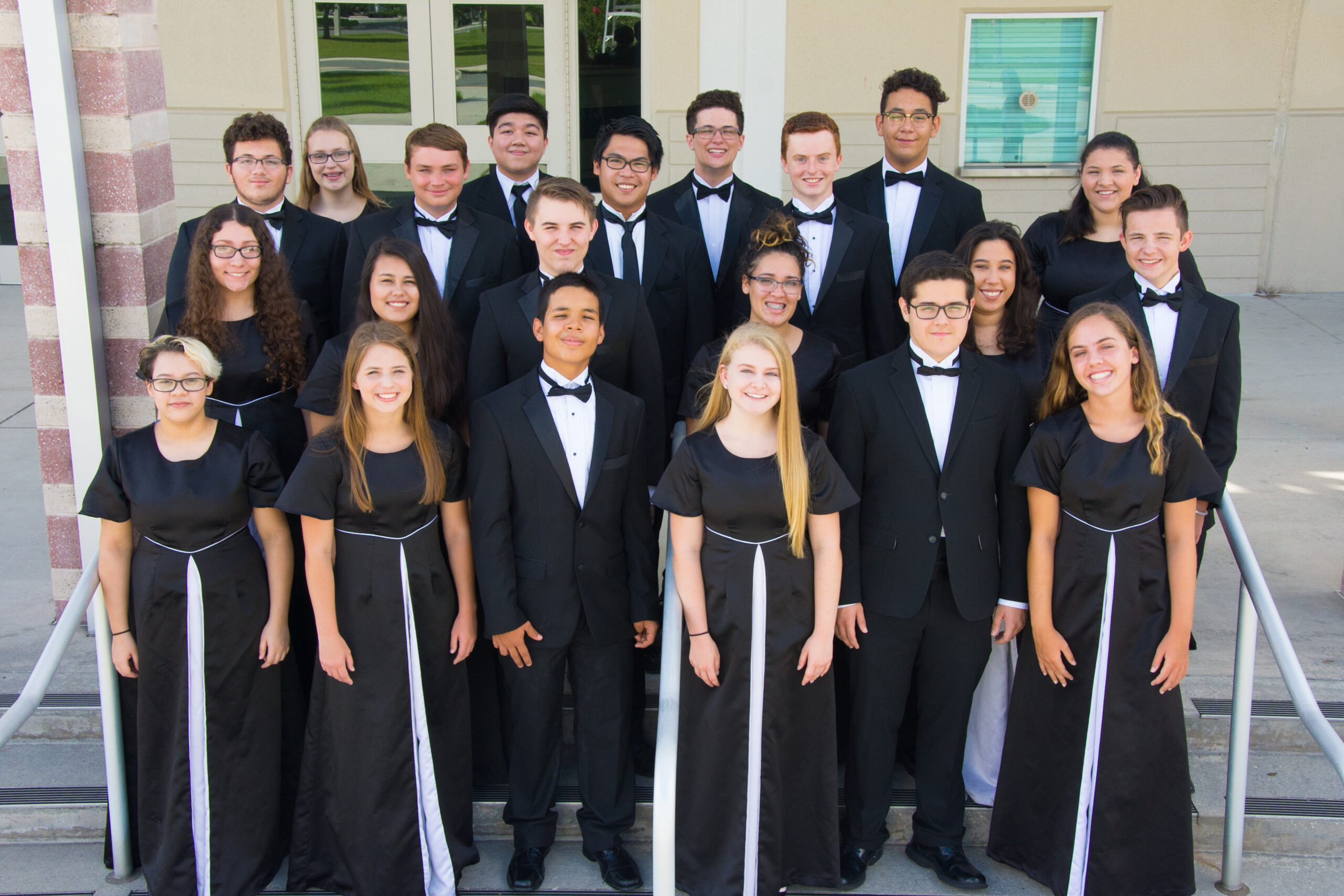 Patriot Singers
Patriot Singers is the top auditioned ensemble at Freedom High School in Orlando, Florida. The choir has consistently earned the highest ratings at district and state assessments throughout the school's history. In addition, Patriot Singers has earned the distinguished honor of Choir of Distinction in the state of Florida for five consecutive years. Under the director of Tesfa Wondemagegnehu and Edward Rothmel, Patriot Singers performed at the 2012 Florida ACDA conference. Their performance in Louisville, Kentucky at the 2018 Southern Division ACDA conference will mark the ensemble's first regional conference performance and their first excursion beyond the state of Florida.
Shannon Lyles is the Director of Choral Activities at Freedom High School in Orlando, Florida. Under her direction, the choirs at Freedom High School have consistently earned the highest ratings at district and state assessments, including several Superior with Distinction awards in district level sight-reading and state performances. Ms. Lyles is also a four-year member of the Festival Singers of Florida, directed by Dr. Kevin Fenton. Ms. Lyles received her Bachelor's of Choral Music Education and her Master's of Music Education from the Florida State University.
Sequoyah Singers Women
Sequoyah Singers Women is the most advanced choral ensemble at Sequoyah High School, located in Canton, GA.  Singers Women performed at the 2015 GMEA Convention in Athens, GA.  Students in the choir are regularly selected for GA All-State Chorus, Reading Chorus, and the Governor's Honors Program in Voice.  Many students come into the choral program with no previous choral or vocal training.  The Sequoyah Singers Women have received superior ratings at evaluations, festivals, and competitions in Georgia and around the United States.
Josh Markham is the Choral Director at Sequoyah HS in Canton, GA.  He holds degrees in Music Education from Shorter College and the University of Georgia.  Influential teachers include Martha Shaw, John Ratledge, Bill Caldwell, and Greg Hucks.   The Sequoyah Singers Women and Sequoyah Men's Chorus have both been featured at GMEA conventions.  In the past four years the Sequoyah Boys Quartet has won back-to-back state championships and two state runner-up finishes at the GHSA State Literary Meet.  Mr. Markham has presented interest sessions at both GMEA and ACDA Southern Division.  He serves as an AP Reader in Music Theory for The College Board and as a Rater for the Praxis Music Exam for ETS.
University High School Concert Choir
The University High School Concert Choir is a passionate and energetic auditioned mixed ensemble. The choir's most recent accolades are its inclusion into the 2016 Florida Vocal Association's (FVA) Choirs of Distinction, its selection as a 2016 Disney's Candlelight Honor Choir, and its invitation to perform at the 2017 FMEA President's Concert. The choir consistently earns Superior ratings at District and State Music Performance Assessments and its individual members have earned seats in ACDA Honor Choirs, FVA All-State Ensembles, and All-County Choirs. The students are involved in Student Government, International Thespian Society, National Honor Society, dance, sports, and other clubs.  Concert Choir is co-directed by Yelitza Greene and Jay Dunn.
Yelitza Greene is the Director of Choral Activities at University High School, Orlando. She received her B.M. from Nyack College, NY and her M.A. in Music Education from the University of Central Florida. She has conducted China's Sias International University Women's Choir and has served on All-County Choir Committees and as FVA District-8 Scholarship Chair.  She is a mentor to student interns and new teachers.  Jay Dunn is the Associate Choral Director at UHS. He earned both his Bachelor and Master degrees in Music Education from the Florida State University.  Mr. Dunn is an FMEA Emerging Leader who has served as FVA District-8 Chair and session clinician.  He is the current FMEA Clinics Chair.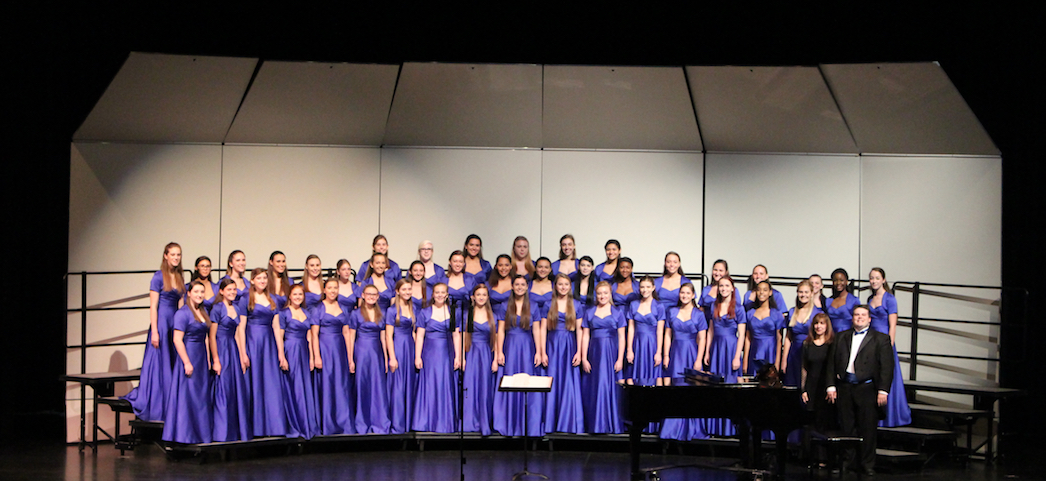 OPUS 2018 Women's Chorus
The OPUS 2018 Women's Chorale is an auditioned, public high school women's chorus from Martin County High School in Stuart, FL. This ensemble consists of women in the top, auditioned chorus grades 9-12. Students within this ensemble are expected to demonstrate a high level of musicianship skills and vocal ability. This ensemble consistently receives superior ratings at district, state, and national music performance assessments. They have consistently earned the Superior with Distinction rating at the Florida State Music Performance Assessment. In 2016, they performed as a mixed ensemble for the state Florida ACDA convention.
Shane Thomas is in his fourth year as director of choral activities at Martin County High School. Choirs under his direction have consistently earned the highest ratings at District, State, and National music performance assessments. Over the last three years, choirs under his direction have been named "Choir of Distinction" by the FVA State Music Performance Assessment. In the fall of 2016, the OPUS Chorale was invited to perform for the Florida ACDA state conference. He is active as the FVA District 13 chairmen and Secretary for the Florida ACDA. Thomas received degrees in music education and choral conducting from Stetson University and Westminster Choir College.

Lafayette High School Madrigal Singers
The Madrigal Singers are state, nationally, and internationally recognized. The choir  competes annually in the University of Louisville Chamber Choir Competition and have won first place ten times. The group performed for the Kentucky Music Educators in 2009 and 2015, for the Southern Division ACDA Conference in 2010, and was awarded two silver medals at the World Choir Games in Cincinnati in 2012. The choir won a gold diploma and the mixed youth choir category in the Sing 'N' Joy International competition in Louisville in 2014. The choir will perform at the first Music for All National Choir Festival in 2018, and will be a demonstration choir for a conductor's masterclass with Dr. Joseph Flummerfelt.
Ryan Marsh holds bachelors and master's degrees from the University of Louisville. He holds National Board Certification in vocal music and has taken doctoral courses at the University of Kentucky. Mr. Marsh is in his fifteenth year as director of choirs also teaching AP Music Theory and Music Technology. He holds professional memberships in ACDA, NAfME and Kentucky Music Educators Association. Mr. Marsh has held elected state office for KMEA coordinating all-state choirs from 2009-2010. He served on the KMEA state board, executive committee and currently publishes the organization's monthly e-newsletter. Mr. Marsh serves on the ENVOY committee for the Music for All National Choir Festival. His choirs have appeared at KMEA and ACDA conventions.